I've looked all over this forum and all throughout the wiki, and I've found no reasonable explanation to what's going on. It's driving me crazy! There's no reason this should be working the way it is according to everything I've read, but it very, very much is, and I can't find anyone else who has the same problem.
Conversations with references weren't working in my own custom-made story, so I opened up the Conversation.taf sample story and looked in there. The subject is '[my name is/i am/i'm] %text%' and you're supposed to put any of those three in and then whatever the text of your name is going to be... only, this is what happens when I do just that.

so, already it doesn't work anything like how the demo works in the wiki, where it explicitly shows the author just typing that in directly and having it just work, but I was already confused about that. So I tried every permutation of that, maybe I need to be in conversation with her already, or maybe I need to 'say' it instead of commanding it..?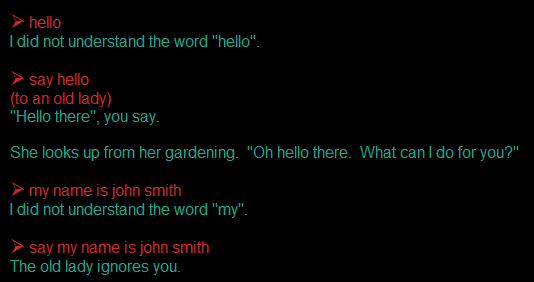 Ignored. And I saw a thread that maybe talked about this in some way but, please forgive me, I really couldn't understand what was going on, what the workaround apparently was, and from what I saw it had to do with entering the conversation. However, clearly I am already in conversation with her, as I can use any other conversation commands/topics that she allows and they work perfectly. So, what's the matter? I really would prefer this to making tasks (which seem to take references just fine) that require conversation with specific characters for every single character that needs a reference-based subject like this.